On the 25th of September, 2013, AENOR (Spanish Association for Standardization and Certification) issued the first Software Product Quality certificates for products complying with the international standard ISO/IEC 25000 - Systems and Software Engineering -- Systems and software Quality Requirements and Evaluation, also known as SQuaRE.
Enxenio, Sicaman, and Bitware comply with the requirements of the standard regarding the maintainability of their products, i.e. the degree of effectiveness and efficiency with which a product or system can be modified (corrected, improved or adapted) by the intended maintainers.
To carry out the software product quality certifications, AENOR has collaborated with AQC Lab, first laboratory in Spain to be accredited by ENAC to perform software product quality evaluations. This laboratory issues independent evaluation reports assessing the degree to which a software product can be maintained to improve it, correct it or adapt it to changes in environment, and in requirements.
In the case of Enxenio, AENOR has certified the maintainability of the software product 'Plataforma de Distribución de Contenidos Digitales versión 2.1'; in the case of Sicaman, it has certified the product 'Sistema de citas para centros de salud Citasalud, versión 3.0'; and in the of Bitware, it has been their product 'Gestión documental BITDOC versión 2'. The certificates were handed over in a ceremony that took place in the headquartes of AENOR (see photo below).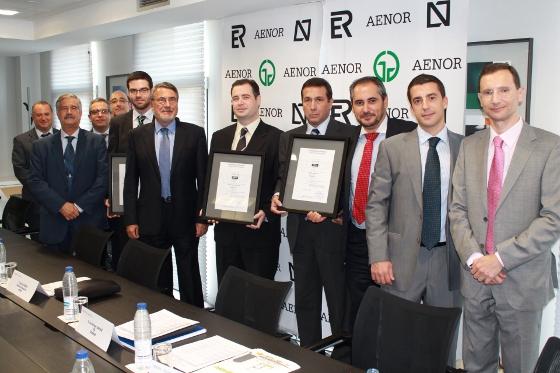 Software Product Quality certification provides numerous benefits for both software development companies and organizations that acquire software:
Keep an edge over competition by meeting delivery schedule, and reducing existing bugs in the product after its deployment.
Being able to establish service level agreements by specifying quality parameters that the product has to meet before it is delivered.
Being able to detect defects in the software product and to eliminate them before it is delivered, reducing costs in the subsequent maintenance phase.
Evaluate and monitor the performance of the software product developed, assuring its ability to provide results given the time and resource restrictions established.