AENOR and AQCLab delivered the first ISO/IEC 25012 certificate worldwide for Data Quality to ICEMD (Instituto de la Economía Digital de ESIC). This certification recognises that the information contained in the Data Product DATOS DE USUARIOS DE LA PLATAFORMA DE ICEMD (Data of Users of the ICEMD Platform) complies with the quality requirements of the International Standard ISO/IEC 25012, in aspects such as its accuracy, completeness, consistency, credibility and currentness.
ICEMD, a leading institution in the field of digital marketing, decided to undertake a project in 2016 to improve the data stored in its systems in order to be able to offer a better service to its environment. As a result of this project, it has achieved the certificate of Data Quality by AENOR, which makes ICEMD a pioneer organization.
Among other advantages, this certification ensures the quality of the information of the organizations' databases and its alignment with the business goals. In addition, it allows ICEMD to improve its data analysis and to perform more precise segmentations, which leads to customer loyalty.
In order to obtain this certification, ICEMD has successfully passed an audit by AENOR and an external evaluation by AQCLab, the first laboratory in Spain to be accredited by ENAC (Entidad de Acreditación Nacional - Spanish accreditation body) to carry out evaluations of software and data quality in conformance to the ISO/IEC 25000 series of standards.
As a result of its evaluation, AQCLab issues a report which verifies the quality of the data and the improvements addressed to ensure that the data reaches the desired quality, in accordance with the international standard ISO/IEC 25012 - Quality requirements and evaluation of the Product software. Data quality model.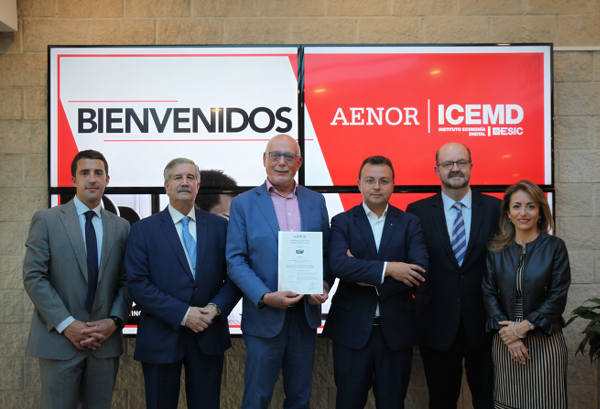 From left to right: Moisés Rodríguez, director of AQCLab; Carlos Manuel Fernández, ICT Strategic Advisor for AENOR; Joost Van Nispen, president of ICEMD; Eduardo Gómez Martín, general director of ESIC; Manuel Romero, Business Development director of AENOR, and Gracia Serrano, Quality Director of ESIC
You can check the related news in the following websites: